How to Travel Across the United States on $50 a Day

The great American road trip is a rite of passage in the States. We Americans have a unique fascination with the open road. It's built into our cultural DNA. In Jazz Age America, the car was a symbol of freedom – a chance to escape your small town and the watchful eyes of parents. As the highway system was developed in the 1950s, a wave of kids set out on the road to explore the country, giving new life to America's car and road trip culture. Today, many still dream of getting in a car and driving into wide open spaces for months on end.And I got to do just that — for four and a half months and 13,000 miles, I traveled to all corners of this country.In diversity and scale, the United States is magnificent.

But this isn't a post about fawning over the U.S. (this post is). This is about how you can travel around the U.S. on a budget because, as it turns out, this country is incredibly easy to travel on the cheap.

After 116 days on the road, I spent $6,262.67, or $53.98 per day. While that is slightly higher than $50 a day, there were many parts of my budget I splurged on (see analysis below). Here is how the numbers break down:

Accommodations: $1,036.36
Food: $3,258.23
Drinks: $438.94
Gas: $696.98
Parking: $253.00
Starbucks: $75.26
Miscellaneous (movies, toothpaste, shampoo, conferences, etc.): $170.00
Attractions: $269.40
Taxis: $41.00
Bus: $17.50
Subway: $6.00

A couple of things hurt my budget. My Starbucks addiction* was unnecessary and added to my costs. Moreover, as a lover of sushi, trying various restaurants throughout my road trip drastically raised my food costs. Sushi, after all, is not cheap. In general, I ate as if I wasn't on a budget and rarely cooked, which is why my food expenses were so high relative to everything else. I would have definitely gone below $50 if I bothered to cook more often.

But while I splurged in some places, three other things really helped me to keep expenses down: First, gas prices were low, averaging around $2.35 a gallon over the duration of my trip. Second, once you leave the big cities, prices for everything drop by nearly half. Third, I Couchsurfed and used hotel points often to keep accommodation costs down.

Overall, while I could have done better, I didn't do too bad and am happy with how much I spent.
How to Save Money on Your Trip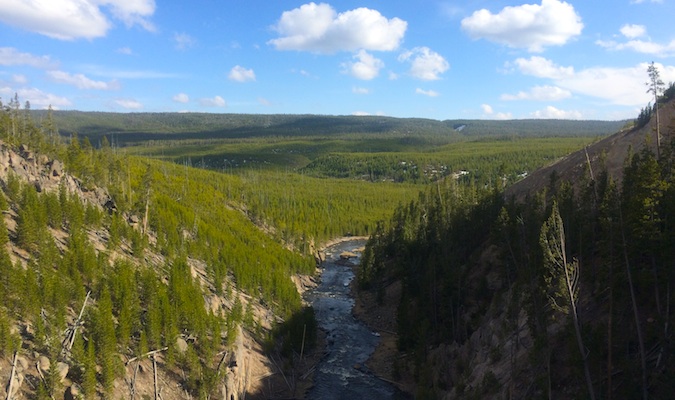 There are numerous ways to travel around the US on a budget. Whether you want to do it cheaper than I did or splurge a bit more, there are always ways to cut your expenses and focus your spending on what matters most to you.
Accommodations
This will be your biggest fixed cost, and lowering it will do the most to lower your overall expenses. Luckily, you have plenty of options:
Couchsurfing — Couchsurfing is a service that allows you to stay for free with locals. Using this website or similar ones is the best way to lower accommodation costs, as you can't get cheaper than free. More than that, it's a wonderful way to meet locals and find off-the-beaten-track stuff to do in the area you're visiting. The site is a double win: you meet cool people and save money at the same time! I Couchsurfed in Richmond, Napa, Reno, Phoenix, and a few other cities. There are so many hosts across the United States, you'll rarely find problems finding someone to put you up.
Airbnb — A more comfortable alternative to the cheap hotels listed above, Airbnb is a service that lets you stay in people's homes and apartments. It's far cozier than any hotel! You can find a lot of single rooms as well as shared spaces for $30–40 per night. I used this option a lot on my road trip. The prices are affordable, you're staying in a nice house, you have access to a kitchen, and you get to meet cool people. Note: If you use this link, you can get $25 off your first stay.
Cheap hotels — When you can't find a Couchsurf or Airbnb to use at the last minute, there is a plethora of cheap roadside hotels such as Motel 6 and Super 8 to the rescue. Rooms start around $40 a night, but including tax, they work out to be $60 on average. Rooms are basic and always look well worn. You'll get a bed, bathroom, TV, tiny closet, and maybe a desk. They are nothing to write home about, but for a quiet place to sleep, they do the trick. Tip:Even if you're traveling with someone, always say the room is for one person, as these hotels charge you more for two people.
Hotel points — Be sure to sign up for hotel credit cards before you go and use those points when you travel. You can get upwards of 70,000 points as a sign-up bonus, which can translate into a week's worth of accommodations. The points came in handy in places where I couldn't find an Airbnb or Couchsurfing host. Be aware that most hotels charge parking fees if you have a car, and adjust your budget accordingly.
Hostels — There aren't many hostels in the United States, and most of them are overpriced. A dorm room typically costs around $30 a night. You can obtain a similar private room on Airbnb at that price, and if you are traveling with others, it's often more economical to get a budget hotel than a bunch of dorm beds. However, if you are traveling solo and want to meet others, the social benefits may outweigh the price. Some hostels I loved: Sweat Peas (Asheville, NC),South Beach Hostel (Miami), India House (New Orleans), Jazz Hostels (NYC), International House (San Diego), and The Green Tortoise (San Francisco and Seattle).
Camping — Around all the national parks are inexpensive campsites, so if you have a camper or gear, my recommendation is to camp when visiting the parks. Campsites are between $10-30 per night. Additionally, you can find a TON of RV parks and campgrounds around the country via the company KOA for $20–30 per night. Moreover, check out the sharing economy website, Camp in My Garden, where you can camp in people's backyards for a small fee.
My recommendations for keeping prices down: Try to Couchsurf as often as possible, use Airbnb or hotel points in major cities, stay in hostels when you want a good social scene, and camp at the national parks.
Food
Cook your own meals and avoid expensive meals and restaurants as much as possible. If you are looking to find cheap food, use Yelp!, ask people on websites like Couchsurfing, or inquire at the desks at hostels. Avoid Whole Foods. Avoid trying to eat sushi like me everywhere! Don't feed your Starbucks addiction and cook often. Food in the United States is very affordable and there's no travel hacking ninja techniques to help here. Cook, save, be happy.
Sightseeing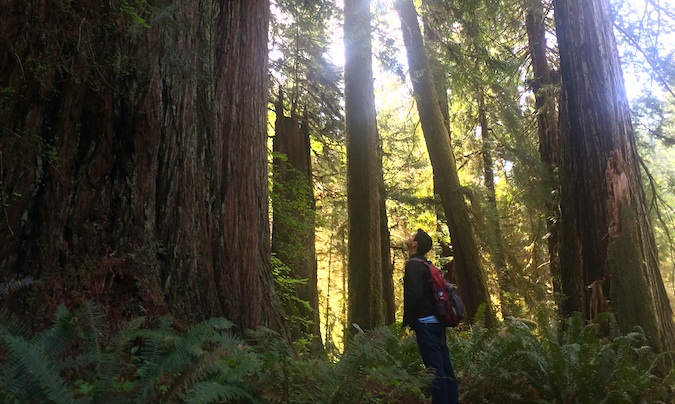 There are three ways to lower your sightseeing costs:
A National Parks pass — For $80, you can purchase an annual National Parks pass that provides access to all 59 national parks (as well as any other recreation areas administered by the National Park Service). At $15–20 a visit, seeing five during your trip makes the pass a money saver. The U.S. national park system is amazing, and you can't trek across the country without stopping at many of them, especially when you get out west. Though there are a lot of options, I highly recommend Yosemite, Yellowstone, the Grand Canyon, Glacier, Redwood National Park, Zion, and the Grand Tetons.
City tourism cards — City tourism cards allow you to see a large number of attractions (and often include free public transportation) for one low price, usually $30–40. They provide free access to museums, reduced access to attractions, and restaurant discounts. Be sure to look into them if you plan on doing a lot of sightseeing, as they generally will save you money. They can be purchased at tourism information centers or online before you go.
Free museums and events — Inquire at tourism centers, use Google, or ask hotel or hostel staff for information about free events and museums. Many museums offer occasional free or discounted admission throughout the week.
Transportation
Getting from point A to B in the U.S. isn't always easy, as our infrastructure isn't that robust. Sadly, to really see the country, a car is a must. We have few non-car options outside the major cities, and besides organized tours, it's hard to get around the countryside and to the national parks.
Hitchhike — This isn't something I did on my trip, as I had a car, but it's very doable (and relatively safe). Here's a post by my friend Matt who hitchhiked across the United States.
Rideshare — Taking on riders can be a way to lower your costs. On my first trip across the U.S., I offered rides to people I met in hostels. On this trip, I had friends and readers join me along the way. You can post ads on Craigslist and Gumtree and at hostels to find riders. This not only makes the trip more enjoyable but lowers your gas costs. Or if you are a rider, you can use the same services to find rides to get you places.
Get a car — You can buy cheap used cars from car dealers or owners on Craigslist. There are lots of listings, and you can resell the car at the end of your trip to recoup some of your initial purchase cost. While this is easy in other countries, it's hard to do in the United States, so remember a couple of key points:
You'll need a U.S. address for registration documents to get sent to. I would use a hostel or hotel address and then set up a forwarding address with the Post Office.
You'll have to buy car insurance, which can greatly add to the costs of your trip.
Another option is to use a car relocation service. This is when you take someone's car and drive it across the country. You are usually paid, and gas is covered. The downside is you don't often have a lot of leeway on timing, so you might not have much time to stop and sightsee along the way. Car relocation options are also usually limited. Two companies worth checking out are Transfercar and Hit the Road.
Some miscellaneous things
The highways are filled with junk food restaurants. I'm not proud to say I ate at Subway a lot on my trip. Stock up on sandwiches at grocery stores to avoid having to choose between Taco Bell, McDonald's, and Subway.
Parking costs add up. I didn't really find a super awesome way to lower parking costs when I was in major cities overnight, but if you have suggestions, leave them in the comments.
Take a metal water bottle to refill along the way. Plastic water bottles add up!
A road trip across the United States is a fun way to see a lot of diverse landscapes, experience different cultures, and meet interesting people. The United States isn't very expensive outside the big cities and you can easily travel extensively throughout the country on a budget.
*Note: I actually don't drink coffee. I'm just hooked on their iced green tea lemonade!